I received this book for free from Netgalley in exchange for an honest review. This does not affect my opinion of the book or the content of my review.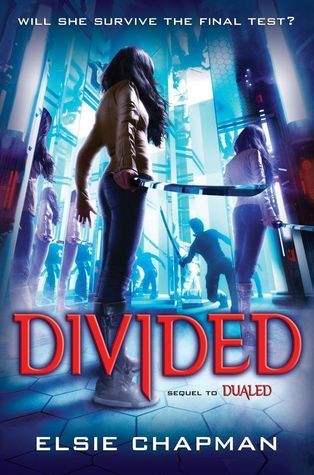 Divided
by
Elsie Chapman
Series:
Dualed #2
Published by
Random House LLC
on 2014-05-27
Genres:
Dystopian
,
Young Adult
Pages:
320
Format:
eARC
Source:
Netgalley
Goodreads
The hunter becomes the hunted. . . .   West Grayer is done killing. She defeated her Alternate, a twin raised by another family, and proved she's worthy of a future. She's ready to move on with her life.   The Board has other plans. They want her to kill one last time, and offer her a deal worth killing for. But when West recognizes her target as a ghost from her past, she realizes she's in over her head. The Board is lying, and West will have to uncover the truth of the past to secure her future.   How far will the Board go to keep their secrets safe? And how far will West go to save those she loves? With nonstop action and surprising twists, Elsie Chapman's intoxicating sequel to Dualed reveals everything.Praise for Dualed:
Honestly, I'm not sure why I decided to read Divided. I read Dualed last year, and I was not really a fan of it. But I saw Divided on Netgalley, and the description sounded good, so I decided to give it a chance, and I'm glad I did. I don't know if it is honestly better than Dualed, or if I was just not in the right frame of mind to read Dualed when I did, but I definitely liked Divided a whole lot better.
My biggest complaint is that I remembered very little about Dualed, but there was enough subtle reminders (as opposed to a full-on info dump/recap) that I was able to catch back up. In Divided, West is a Complete, dating Chord, and working with Baer at the school. However, she's having nightmares and going to counseling to deal with the aftermath of being a striker and an Active.
I think that Divided was better than Dualed because Dualed was a whole lot of West hiding, and I just found it to be boring. There was a lot more action in Divided and a lot more to the story. There were more mysteries and questions that I wanted answers to, so it kept me turning the pages and wanting to read more and more. I thought that the twists were wonderfully written, and I was surprised by the turns that and revelations that came out at the end. I'm guessing there's going to be more to this series, and I'd be interested to learn more. I really can't say too much more without spoiling the book, but I definitely found it interesting!
Overall, I really enjoyed Divided and was pleasantly surprised by it. So, even if you were like me and didn't really care much for Dualed, I think it's worth giving Divided a chance. It felt like a completely different book!