I received this book for free from Author in exchange for an honest review. This does not affect my opinion of the book or the content of my review.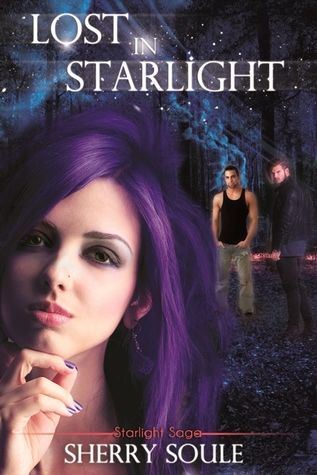 Lost in Starlight
by
Sherry Soule
Series:
Starlight Saga #1
on 2014-06-26
Genres:
Paranormal
,
Romance
,
Young Adult
Pages:
350
Format:
eARC
Source:
Author
Goodreads
High school is tough. Romance with a sexy alien—even tougher. 





Star reporter Sloane Masterson knows she has one helluva story when she witnesses hottie Hayden Lancaster bending forks with his mind.





Like any good journalist, Sloane sets out to uncover the truth, even if it includes a little stalking. When the superhuman feats start to pile up and the undeniable heat rises between them, Hayden has no choice but to reveal his secret: he's an alien hybrid.





They're as different as night and day—she's a curvy, purple-haired, horror junkie and he's a smoking hot, antisocial, brainiac—yet the intense fascination between them refuses to go away. Even at Hayden's insistence that dating each other is "off limits" and dangerous, their fiery attraction threatens to go supernova. 





Now Sloane's dealing with creepy government agents, über snobby extraterrestrials, and a psycho alien ex-girlfriend out for revenge. After a crash course on the rules of interstellar dating, Sloane must decide if their star-crossed romance is worth risking her own life....
When Sherry Soule approached us about reviewing Lost in Starlight, I was kind of excited. I'm not typically an alien fan, but the description sounded really good, so I decided to give it a try. I'm still kind of confused as to how I felt about it.
Lost in Starlight mainly centers on Sloane, a slightly overweight teenage girl, and Hayden, the hot, unattainable new guy. They are inexplicably drawn to each other, putting her life in danger.
The story line of Lost in Starlight was not too bad, except that it really reminded me a lot of Twilight. Don't get me wrong, I loved Twilight, but in this case, the comparison wasn't really a favorable one. I still can't explain what it was about Twilight, but I was hooked from page one. I didn't get the same attachment with Lost in Starlight.
There were also lots of little things that may not bother someone else but just really bugged me. For one thing, in almost every new scene, we got a description of what Hayden and/or Sloane were wearing. Occasionally, these descriptions are okay, but they were just overdone. Also, there was just too much focus on Sloane's huge boobs. Seriously, it was referred to a lot, even being referred to as the "double D's". I just didn't care for it. And the fat-shaming. I'm sure it was just a comment on society, but seriously, every negative interaction Sloane had led to her being called some form of fat.
I lacked a connection for most of Lost in Starlight. In all honesty, I had decided to DNF it at 46%, not because I hated it, but because I just couldn't get into it. However, I decided to give it another chance and did end up finishing it. It definitely got better, though still not great. My biggest complaint is that it got very predictable. I mean, there were a couple things I didn't see coming, but most of it I did.
Also, there were small sections of Friday Night Babble, which is Sloane's article on horror film cliches. I get what the author was trying to do here, but I just didn't feel like it fit. They just seemed kind of out of place to me. I don't know. Maybe you'd feel differently.
Okay, so overall, I know that this a negative review, but here's where I get confused: I did like the ending, even if it was predictable, and I'm interested in reading the sequel, when it comes out, so I liked it a little. Even though the story line mimicked Twilight more than I would have liked, the differences were pretty good. I found the alien aspects to be interesting, though I hope that they're developed even more in future books.