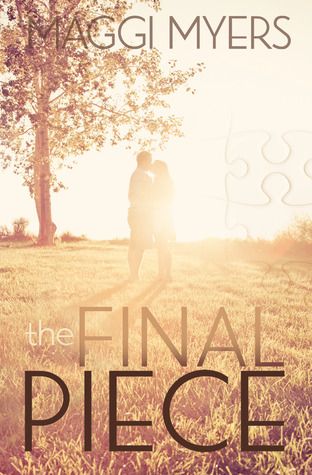 The Final Piece
by
Maggi Myers
Published by
Amazon Pub
on 2013-08-13
Genres:
Contemporary
,
New Adult
Pages:
239
Format:
eBook
Goodreads
Fourteen-year-old Beth Bradshaw is trapped in a nightmare. Her parents, both cocaine addicts, party nonstop, failing to notice that Drew, a frequent guest in their home, has been spending time in young Beth's bedroom. But when longtime family friend Tommy comes to visit, he instantly knows something is wrong. After catching Drew in the act, Tommy whisks Beth off to the only safe place she has ever known: her grandparents' home in Iowa. Safe with Gran, Pops, and Tommy, Beth can pretend to be a normal teen. As she bonds with Tommy's nephew Ryan over rock music, their friendship blossoms into an exhilarating first romance. But Ryan doesn't know the full story behind Beth's move to Iowa. Years later, when a family tragedy unearths clues about her past, Beth must decide whether to share the one piece of herself that she's kept hidden...or risk losing her true love forever.
As I've probably stated before, I was in a major book slump recently where I just couldn't find anything I wanted to read and had a hard time getting into any books that I did start. So I decided to go back to basics: I went to the Goodreads pages of books that I knew I liked, especially recently, and looked at the "Readers Also Enjoyed" section. That's how I found The Final Piece. I was glad that I could borrow it from the Amazon Prime Kindle Owners' Lending Library, and I got it right away.
I was a little confused when I first started because The Final Piece opens with Beth locked in her room (she's locked her own door), singing along to music, but she's only 10 years old. Reading the description, I certainly didn't expect to be reading from a little girl's point of view. After that, it jumps around in time quite a bit, and it doesn't typically specify when it's doing it. It's not until you get into the narrative that you realize that Beth has aged. That was a bit jarring at first, but I got used to it.
I put a warning because there are a couple of scenes where the abuse narrative gets a bit graphic. I mean, it's not super explicit, but since it was abuse, it kind of shocked me and made me uncomfortable. I'm sure that was the point, since this is abuse we're talking about, but I wasn't expecting it and only thought it fair to warn you ahead of time.
I will say that I found part of the narrative to be a bit unbelievable. Beth does have some issues, mostly with trust, but she doesn't seem to be as traumatized or messed up from her abuse and her parents' drug habit as I would have expected. She's just a little too well-adjusted to me. I haven't been abused, but I imagine that it would have far greater effects on the victim than are illustrated here (see Faking Normal for a more believable reaction).
Overall, though, I did enjoy the story of The Final Piece, and I really liked the progression of several years. Also, I just really liked Beth and Ryan and the way that their relationship played out. I would definitely recommend this one!