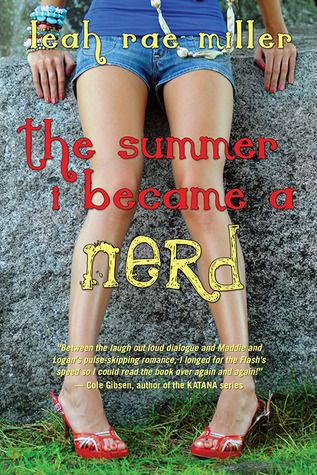 The Summer i Became a Nerd
by
Leah Rae Miller
Published by
Entangled Publishing, LLC
on 2013-05-07
Genres:
Contemporary
,
Young Adult
Pages:
258
Format:
eBook
Goodreads
On the outside, seventeen-year-old Madelyne Summers looks like your typical blond cheerleader—perky, popular, and dating the star quarterback. But inside, Maddie spends more time agonizing over what will happen in the next issue of her favorite comic book than planning pep rallies with her squad. That she's a nerd hiding in a popular girl's body isn't just unknown, it's anti-known. And she needs to keep it that way. Summer is the only time Maddie lets her real self out to play, but when she slips up and the adorkable guy behind the local comic shop's counter uncovers her secret, she's busted. Before she can shake a pom-pom, Maddie's whisked into Logan's world of comic conventions, live-action role-playing, and first-person-shooter video games. And she loves it. But the more she denies who she really is, the deeper her lies become…and the more she risks losing Logan forever.
I remember hearing a good things about The Summer I Became a Nerd, so when it went on sale for the kindle, I bought it…and then proceeded to forget about it for a while. Since I've been on a contemporary kick lately, and it's summer, I thought it would be a good time to pick this one up, and I'm glad I did!
I thought the beginning was excellent. The prologue really did a great job of setting the stage for the rest of the story and as to why Maddie felt the need to hide her love of comics.  I also thought the whole scene of her going to the comic store for the first time was hilarious. Seriously, it was just absurd. The things that went through this girl's head sometimes were just silly!
I thought the characters were great. I got a kick out of Maddie most of the time, though when she'd let her worry over what people would think get the better of her, I kind of just wanted to smack her. However, I really related to her at the same time. Even at almost 30, I sometimes have a hard time with worrying about what people think about me. I'm not nearly as bad as I was in high school (which is obviously when this takes place), but it still happens sometimes. Logan, however, I just loved. I'm not even sure what it was about him, but he was the most lovable hot nerd! And their chemistry together was so fun to read!
The ending was a little predictable, but I actually really liked it. I would definitely recommend The Summer I Became a Nerd. It was a good, light, fun read, and I enjoyed it!