I received this book for free from the Publicist in exchange for an honest review. This does not affect my opinion of the book or the content of my review.
This book may be unsuitable for people under 17 years of age due to its use of sexual content, drug and alcohol use, and/or violence.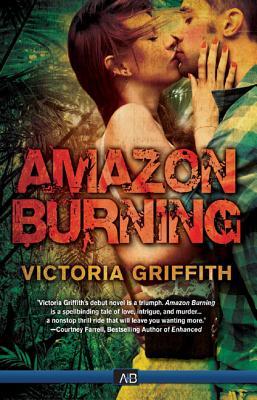 Amazon Burning
by
Victoria Griffith
Published by
Astor & Blue Editions
on Victoria Griffith
Genres:
New Adult
,
Romance
Pages:
333
Format:
eARC
Source:
the Publicist
Goodreads
When 22-year-old aspiring journalist, Emma Cohen, is forced to flee the comforts of her NYU student life, she maneuvers an internship from her father at his newspaper in Rio de Janeiro. There, Emma is immediately swept into a major news story--and a life-threatening situation--when a famous jungle environmentalist, Milton Silva, is mysteriously murdered.Emma must now enter the Amazon rainforest with her father to investigate; both awed by the enormity and beauty of the Amazon, and appalled by its reckless destruction. Not only will Emma have to brave the primal world of the Amazon, she must fight to survive the kidnappers, villains, corrupt activists, and indigenous tribes that lay in wait along the ever-twisting trail of the murder case. Stretched to the brink, it s up to Emma, her father and the dreamy news photographer, Jimmy, to unravel the mystery and live to tell the tale. Amazon Burning by Victoria Griffith is a spectacular debut Young Adult novel. Griffith's powerful rendering of the Amazon rainforest forms the perfect, wildly exotic backdrop for this extraordinary tale of a young urban woman coming of age in the midst of intense conflict."
When we were approached about reviewing Amazon Burning, I thought the synopsis sounded interesting, and the unique setting of Brazil and the Amazon was intriguing. Unfortunately, the book just fell flat for me.
First, I want to say something I feel is important: Amazon Burning is being marketed as Young Adult. However, the main character is 22, and there are some fairly graphic sex scenes, so I would say it's New adult. (Speaking of sex scenes, I just need to vent. I am SO sick of the woman's genitalia being referred to as their "sex". I don't know why, but it just irks me. In this book, it's also referred to as her "vessel". I seriously hate these euphemisms!)
Anyway, Amazon Burning starts off with a murder, seeming to set it up as a murder mystery. However, I felt like the murder quickly got pushed aside. After a while, I was no longer sure what the book was supposed to be about. Was it about the murder, the sexual tension between Emma and Jimmy, the Yanomami Indians, or the crime in Boa Vista? It just felt all over the place to me.
I also really didn't like Emma. I'm not really sure why, but the just bugged me. She kept doing stupid stuff, getting herself in trouble, and then needing someone to save her. It got old really fast. And the ending just kind of felt like a throwaway. All of a sudden, everything was just thrown at us.
I am sure that there are people who will really enjoy this book, but unfortunately, I just wasn't one of them. This book just didn't work for me, and I can't recommend it.