This book may be unsuitable for people under 17 years of age due to its use of sexual content, drug and alcohol use, and/or violence.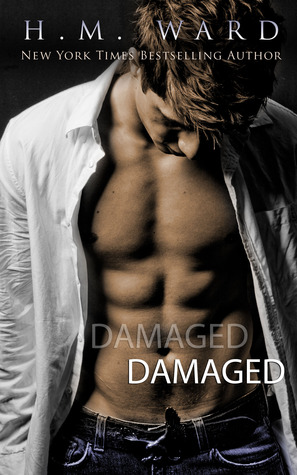 Damaged
by
H.M. Ward
Series:
Damaged #1
Published by
Laree Bailey Press
on April 7, 2013
Genres:
New Adult
,
Romance
Pages:
341
Format:
eBook
Goodreads
Life sucks. And, as soon as Sidney picks up the pieces something always knocks her back onto her butt. It's never pretty, but this time is different. This time pretty isn't even the right word.

Peter is the personification of perfection. It's like he fell off his angel perch in purgatory, because let's face it--any guy that hot has got to be naughty. He was probably sent here to ruin her life.

Peter is beyond beautiful with his sexy blue eyes, dark hair, and toned body. Add in his charming wit and Peter is everything Sidney ever wanted in a man, but when things get hot and heavy Peter shows her the door. Sidney takes the walk of shame and leaves. It's the end of the worst blind date ever. Her life couldn't possibly reach higher levels of suckage, but it does.

The next morning everything comes crashing down. The insanely hot guy from last night, the one that saw her half naked, is teaching at the front of the class room.
When I decided to start reading the Arrangement series, I asked on H.M. Ward's Facebook page to ask about the suggested reading order, since there are other books  in the Ferro Family series. That's how I found out about Damaged.
Damaged is actually a full novel at 341 pages (for the paperback version), so it had more time to build up the story, rather than jumping right in like The Arrangement does, so it took me a little longer to get hooked on the story, but H.M. Ward did manage to hook me!
My one complaint, though, is that this is, I think, the 3rd book I've read where a girl hooks up (or almost hooks up) with a new guy, only to later find out that he's her teacher. I'm not very creative, so I don't have any better ideas, but I'm not hugely impressed with the recycling of this storyline.
However, I love H.M. Ward's writing. She can write emotion and romance with a lot of humor thrown in. I loved seeing the interactions between Sidney and Peter, and honestly, they very seldomly failed to put a smile on my face.
Once I got toward the end, the story really picked up. I had a feeling something similar to what happened would happen, but I didn't predict it full out. And just as it was really getting good, and I was completely invested in seeing what happened next, it ended. H.M. Ward is definitely the queen of the cliffhanger! Needless to say, I will definitely be reading the sequel because I have to see what happens next!