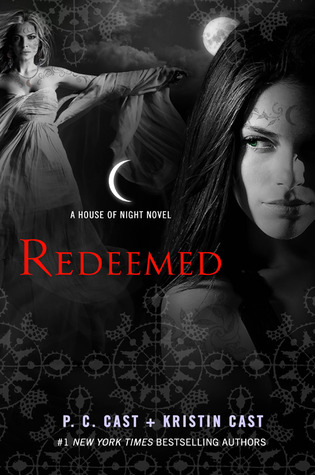 Redeemed
by
Kristin Cast
,
P.C. Cast
Series:
House of Night #12
Published by
St. Martin's Griffin
on 2014-10-14
Genres:
Paranormal
,
Young Adult
Pages:
310
Format:
Audiobook
Goodreads
In the final electrifying novel in the HoN series, Neferet has finally made herself known to mortals. A Dark Goddess is loose on Tulsa and the world. No single vampyre is strong enough to vanquish her - unless that creature has the power to summon the elements as well as the ability to wield Old Magick. Only Zoey Redbird is heir to such power…but because of the consequences of using Old Magick, she is unable to help. Find out who will win and who will lose in this epic battle of Light versus Darkness.
I started reading the House of Night series in December of 2009. I quickly read the first six books, which were all that had been released at the time, and then read each new book as it was released. I also spent the last two months reading the series from the beginning, which consisted of rereading eleven novels and three novellas. So to say that I was highly anticipating and ready to read the final novel in the series would be an understatement. Unfortunately, after investing that much time into the series, I was expecting a lot more from Redeemed that we got, and I was left sorely disappointed.
I think that most readers of this series were expecting Redeemed to be a huge, epic battle between Zoey and Neferet. Instead, we start the book out with a pathetic Zoey trying to kill herself and a huge portion in Neferet's perspective as she tortures a hotel full of people. Honestly, I found the whole thing to be boring and pointless and was surprised at how much time was focused on it. All it really did was show how evil Neferet was, and anyone who has read the series already knows this!
There were so many things that just seemed pointless and/or disappointing, including the final battle. There were so many incredible ways that I thought that it could go that would have been awesome, but it just felt anticlimactic. I also feel like there were so many things that should have been developed more that were just abandoned and left open. I sincerely hope that this isn't to further this series even more!
There was one thing that redeemed (haha, pun!) this book for me, and that was the conclusion to Kalona's story line. It was beautifully written and had me very emotional. It was by far my favorite part, enough to raise my rating by a full star. Yet no matter how much I loved it, it doesn't change the fact that the House of Night series was supposed to be about Zoey and that her conclusion should have been better.
Overall, if you've invested the time to read the rest of this series, then you might as well finish it, but I honestly don't feel it's the ending that the readers or characters deserve.