I received this book for free from the Author in exchange for an honest review. This does not affect my opinion of the book or the content of my review.
This book may be unsuitable for people under 17 years of age due to its use of sexual content, drug and alcohol use, and/or violence.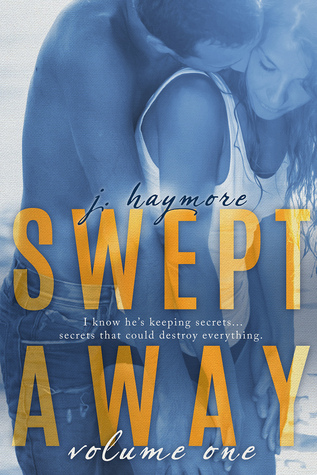 Swept Away
by
J. Haymore
Series:
Swept Away #1
Published by
Jennifer Haymore
on 2014-10-20
Genres:
Contemporary
,
New Adult
Pages:
202
Format:
eARC
Source:
the Author
Goodreads
He is everywhere. He surrounds me, wends his way under my skin. I can't escape his strength, his intensity, his presence.

I'm trapped.

There's nowhere to run.

Nowhere to hide.

But even if I could escape... would I be strong enough to leave?

I needed something — something big — to get myself out of the rut I'd fallen into after the car accident that killed my sister. This sailing trip was meant only to mark a new chapter in my life. Until Ethan Williams stepped on board.

Ethan radiated confidence. His darkly handsome good looks and ocean-blue eyes mesmerized me. But it was the way he looked at me that drew me in. He wasn't looking at my past or at my scars, but the real me behind all that baggage I was trying so hard to leave behind.

But Ethan had secrets—dark, dangerous secrets. I was trapped in the middle of the ocean in a tangle of lies, sex, and violence. The problem was, I was happy to be trapped forever...if it meant I could have him.

Warning: Swept Away is not for people under 18.
When Jennifer Haymore contacted us about reviewing her serial, Swept Away, I was on a major New Adult kick, and the description and excerpt she sent sounded good, so I jumped at the chance.
The first installment was not super exciting, but it was a very good introduction to the characters and story. We really got to learn a lot about Tara and Ethan, though there was still a lot left to learn. We didn't learn quite as much about the others on the boat (maybe a little about Kyle), but that's not a big deal.
At the end of Volume 1, we are left with an announcement. I won't say that the announcement surprised me, but the reaction to it did. I was also surprised by how much of the second installment actually centered around that reaction. It wasn't really tedious or boring, just surprising. However, the aftermath certainly led to some tension and awkwardness. There were more mysterious happenings, some answers, and more questions. The ending was super-intense!
After the ending of volume 2, I was very anxious to see what happened. I've got to say that Tara's reaction really disappointed me. I guess I get it to an extent, but it just seemed kind of extreme. Along the way, we learned a little more about Tara and her relationships with her sister and Kyle. We also finally got some answers about the happenings aboard the Temptation. I can't say that they really surprised me, as I had a feeling it was coming, but I still really liked it. I was very surprised with the ending of the installment and was left very anxious for the final installment!
There was a lot that I liked about the final installment. For example, I liked that the ending of the previous installment was resolved quickly. There were also things that I didn't like, especially Kyle being an ass. I understand that his feelings were hurt, but as Tara's best friend, he should have handled it better. Also, based on Tara's history, I found that she believed, trusted, and forgave a little too easily. I also had a hard time with the fact that Ethan didn't share his suspicions with Tara. But all of these were pretty minor. Overall, I thought that it was a really good finale to the serial!
Swept Away has a lot to offer: sexual tension and chemistry, mystery, loss, love, friendship, and a main character w ho is far from perfect: physically and emotionally. It also has a writing format that is unusual. While most of the book is told in first-person, present tense from Tara's perspective, there are also some chapters that are diary entries from whom can quickly be assumed is Ethan's old girlfriend. While the significance of these diary entries is not immediately apparent, they added another layer of mystery. The serial definitely left me satisfied and interested, especially after reading a disappointing book right before the final installment. I would highly recommend Swept Away!